My Links: AardsmaFive Homepage Nature, Etc.
Introduction
Hi! My name is Tim E. Aardsma. I have nine siblings, and I am number nine in a family of ten children.
I would like to say a special thanks to my mom and dad for purchasing this website. They gave it to us for a Christmas present in 2009.
Here am unhooking a small sunfish.
Fishing is one of my favorite things to do.
This picture was taken by my good friend Joey Contreras.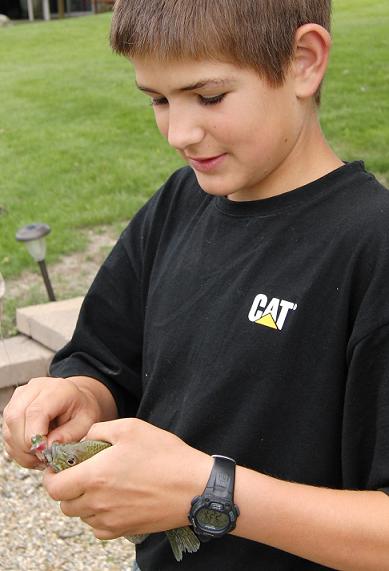 I live about three hours south of Chicago, in a small town called Loda. We have a market garden and some animals. Currently we have a steer, chickens, and a flock of homing pigeons. I do all the animal care. I especially enjoy taking care of the homers.
In my free time I enjoy playing with my guinea pig (Sammy), reading, and playing with Matt's dogs. I also enjoy our daily walk, even though it can get very cold and windy. I like writing my Grandma, my oldest nephew, and a pen pal.
I hope you enjoy my section of the website. Using the links above you can view different pages. Thanks for droppin' in!